What's New in the ADSN – July 2023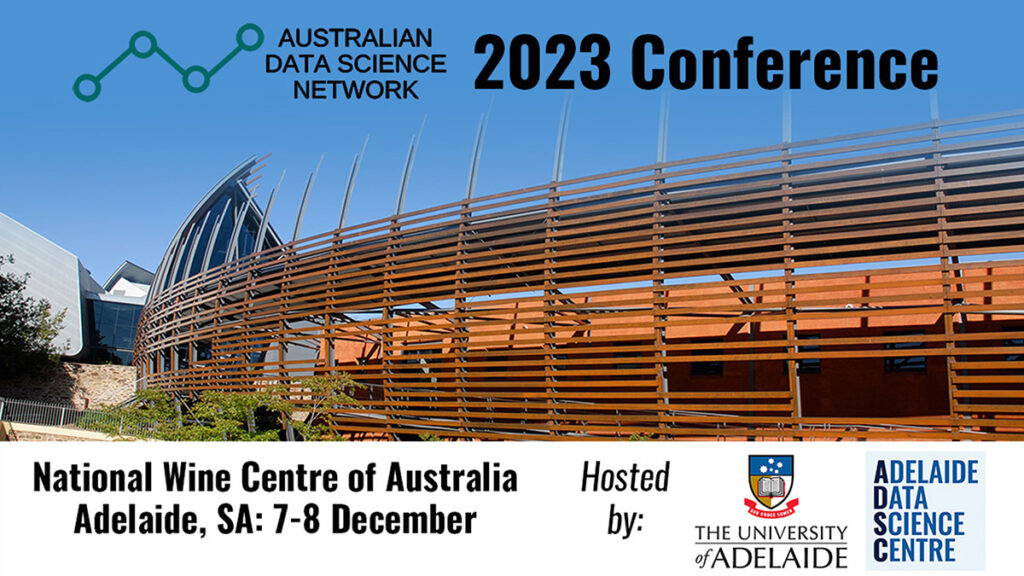 Save the Dates! ADSN Conference 2023
We hope you can join us in Adelaide this December for the 2nd annual conference of the Australian Data Science Network.
Please save the dates now. We will let you know when the program has been finalised and registration is open.
---
Welcome to the ADSN!
The ADSN would like to welcome a new partner organisation: The College of STEM at Murdoch University in Western Australia
Murdoch University's College of Science, Technology, Engineering, and Mathematics (STEM) equips students with a holistic education, blending theory and practical skills to pave the way for prosperous careers across various industries.
---
Events across the ADSN
Public Lecture: How mathematics can inform public policy – or not
13 July, 6 pm AEST
QUT, Brisbane & Online
As part of the Australian Mathematical Sciences Institute (AMSI) Winter School 2023 conservation scientist and mathematician Professor Hugh Possingham (The University of Queensland) will give a public lecture on how the application of mathematics to real-world systems has impacted policy and management … or not.
Health Studies Australia National Data Asset (HeSANDA) Program Showcase and Health Data Australia Launch
Join us to celebrate the achievements of the Health Studies Australia National Data Asset (HeSANDA) node projects and launch Health Data Australia for the Australian Health research community.
Statistical Consulting Network July Meet-up
28 July, 12:30 pm – 1:30 pm
Online
The Statistical Consulting Network invites you to its monthly meet-up, a virtual lunchtime meeting where statisticians help each other out with problems that they aren't sure how to deal with. This virtual meeting is held on Zoom at lunchtime on the last Friday of each month, 12:30-1:30 PM (AEST). We start each meet-up with announcements, or occasionally a special topic discussion, then discuss problems that attendees have brought along with them.
Integrated Earth 2023
12-13 September
The Shine Dome, Canberra
ARDC, TERN, NCI, AuScope, ACCESS-NRI and IMOS are partnering to host The Australian Academy of Science Elizabeth and Frederick White Research Conference. This 2-day symposium will bring together researchers, scientists, and STEM professionals working across the 5 Earth systems: geosphere, biosphere, cryosphere, hydrosphere, and atmosphere, to address complex environmental challenges.
2nd Bayesian Nonparametric Networking Workshop
4-8 December
Monash University
We are pleased to announce the 2nd Bayesian Nonparametric Networking workshop. The format will largely follow the first of these new BNP Networking workshops that was held in Nicosia (Cyprus) in April 2022, this time with 3 mini-courses delivered by Jim Griffin, Athanasios Kottas and Stephanie van der Pas, who will also deliver Keynote talks. The workshop will also feature invited talks, contributed talks and a poster session each featuring a range of different topics presented by a blend of both junior and established researchers.
Australian Statistical Conference (ASC) & Australian Conference on Teaching Statistics (OZCOTS) 2023
10-15 December
Wollongong, NSW
Hosted by the Statistical Society of Australia (SSA), this week-long conference covers both new developments and interesting applications of statistical methods. The theme for 2023 is 'Statisticians in society'. The last two days overlap with OZCOTS, providing a great opportunity to dip into the teaching of statistics. The week begins with three outstanding workshops on Sunday, 10 December:
Essential Skills for Statistical Communication
Statistical Consultancy – The Essentials for Getting Started and Ongoing Success
Deep Statistics for More Rigorous and Efficient Data Science
---
Murdoch University
NIASRA at the University of Wollongong
The University of Melbourne
The Australian National University
---
Other Opportunities
📢 MATRIX-AMSI PhD Student Symposia – Call for EOIs
MATRIX (Australia) and AMSI invite PhD students in the mathematical sciences around Australia to design and run your own research symposia in 2023 or 2024. Exchange ideas, collaborate & build relationships. EOIs close on Thursday 31 August 2023.
📢 AMSI ACE Network online Honours & Masters Subjects | Semester Two
Enrolments are open for these nine (9) honours and masters Semester Two subjects:
Advanced Numerical Analysis
Computational Thinking with Python
Fields & Modules
Introduction to Nonlinear PDEs
Introduction to Stochastic Analysis
Mathematical Epidemiology
Partial Differential Equations
Statistical Consulting
Statistical & Time-Series Analysis of Climate Variables
---
📲 ARDC releases its 2023 impact booklet, "Partnering for Success' – Australian Research Data Commons (ARDC)
📲 A Team from Monash Data Futures Institute will be participating at the ITU/UN AI for Good Global Summit 2023 in Geneva this week – Monash Data Futures Institute
📲 Top AI Award Honours for UNSW Data Science Hub Deputy Director – UNSW Science
📲 Global data study on COVID-19 to help fight future pandemics – QUT Centre for Data Science
📲 Australian Supercomputing and Research Data Leaders Collaborate to Expand Access to Skills Training – ARDC
---
Looking for a podcast about Data Science, Maths & Stats?!
Season 8 of The Random Sample is just around the corner!
The ADSN is a proud partner in "The Random Sample" podcast. The Random Sample takes you inside the data and mathematical sciences and introduces you to some of the people involved, explores the work they're doing, and the impact it's having. To listen, just search for The Random Sample wherever you get your podcasts, or head to the podcast website. Please subscribe for free so new episodes just drop into your pod feed every two weeks. Also, if you have any ideas for podcast episodes or would like to get involved, please contact Tim Macuga.
---
On Video
Topics in Data Assimilation with Applications in Hydrology – Dr Sahani Pathiraja, ARC Training Centre in Data Analytics for Resources & Environments (DARE)
Professor Antonietta Mira from Switzerland's USI Università della Svizzera italiana and the University of Insubria in Italy. She gave two talks. The links to the videos are on the QUT CDS Website.
"Data Science Meets Life Science – Some Success Stories"
"Bayesian Estimation of Data Intrinsic Dimensions"
---
Contribute
Do you have an exciting news story, interesting opportunity, or upcoming event that you would like featured in one of our newsletters or ADSN Alerts? Please contact us to share your suggested content for consideration in the next ADSN communication piece.
---
Connect
Make sure you're following the ADSN on Twitter and LinkedIn @AustralianData to stay in the loop with the latest news, events and opportunities. Remember to use the hashtags #ADSN and #AustralianDataScience so we can reshare relevant updates with the network!