What's New in the Network – June 2023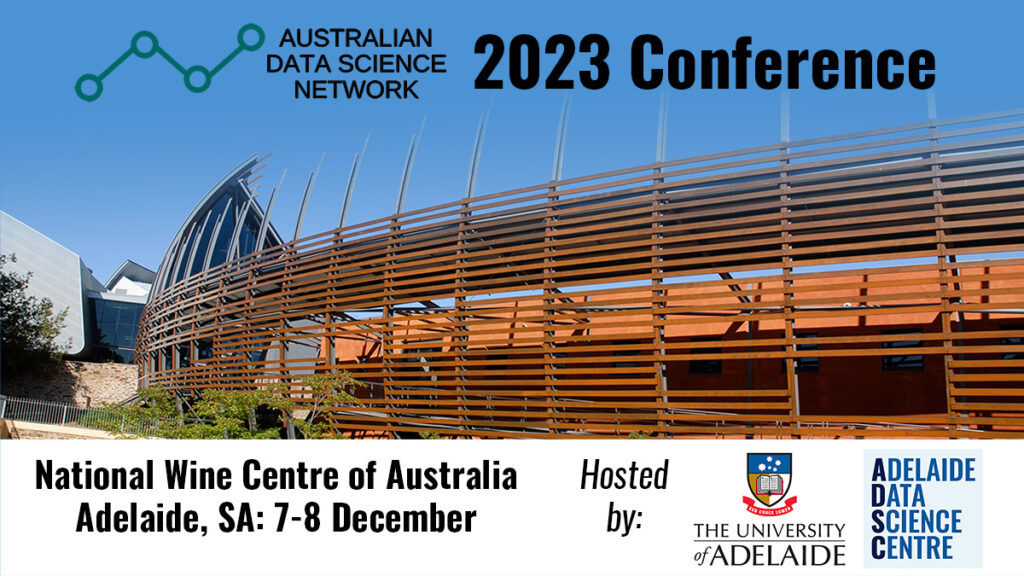 Save the Dates! ADSN Conference 2023
Thursday & Friday, 7-8 December
National Wine Centre of Australia at The University of Adelaide
Host Organisation: Adelaide Data Science Centre
We hope you can join us in Adelaide this December for the 2nd annual conference of the Australian Data Science Network.
Please save the dates now. We will let you know when the program has been finalised and registration is open.
---

---
Events Across the ADSN
https://www.australiandatascience.net/events/
Public Lecture: "Data Science Meets Life Science" – Prof. Antonietta Mira
Monday, 5 June – 4 pm AEST
QUT Brisbane & Online
How can Data Science help improve our lives? Professor Mira will present two research lines joint with the QUT Centre for Data Science on studying the evolution of biodiversity of the Great Barrier Reef and on clustering countries based on COVID-19 data dynamics.
---
12th Annual AeRO Forum 2023 – eResearch & Artificial Intelligence
Tues, 13 June, 10 am – 4 pm AEST
Canberra, ACT
Join sector leaders to openly discuss important issues for Australasian eResearch via two Q&A style panel discussions. The first panel will focus on AI and ML in eResearch, and the second related to the Research Data Culture Conversation (RDCC), followed by the opportunity to network with colleagues from Australia and New Zealand.
---
ARDC Planet RDC & the Impact of Being involved in an RDA
Weds, 28 June – 3pm AEST
Online
Join the ARDC for an exciting opportunity to explore the development if its Planet Research Data Commons (Planet RDC), through which shared data and digital research tools are revolutionising our ability to confront the most pressing environmental challenges of our time. At this webinar, you'll have the chance to hear directly from the ARDC Director of the Planet RDC.
---
AMSI Winter School: Modelling our Changing Biosphere
3-14 July
QUT, Brisbane
REGISTER (Registrations close 12 June)
The focus of AMSI Winter School 2023 is the Earth's biosphere, which encompasses the interconnected physical and biological systems that support human life. The hybrid program will explore how mathematical modelling can help to preserve and sustain our biosphere in the face of human-driven change.
---
AI for Good Global Summit
6-7 July
Geneva, Switzerland
The AI for Good Global Summit is the leading United Nations initiative to identify practical applications of AI to accelerate progress towards the UN SDGs. Monash Data Futures Institute is supporting the initiative as a Gold Sponsor in 2023.
---
SMC Down Under: AMSI-AustMS Workshop on Sequential Monte Carlo
The QUT Centre for Data Science is proud to host SMC Down Under. The workshop will bring together the SMC community to discuss the theory and practice of sequential Monte Carlo. The workshop will consist of contributed talks, posters, and collaborative sessions to discuss current trends in SMC and its future directions.
---
ISI World Statistics Conference
16-20 July
Ottawa, Canada
The ISI World Statistics Congress (WSC) is the leading congress on Statistics & Data Science worldwide. It is held every two years, since 1887 by the International Statistical Institute (ISI).
---
Monash Prato Dialogue AI Summit
17-19 July
Monash Prato Centre, Italy
The Monash Data Futures Institute is inviting registrations from interested professionals and researchers who would like to join our Monash Prato Dialogue AI Summit, to be held from 17-19 July 2023 at the Monash Prato Centre, Italy. The exclusive event will focus on bringing together an international network of experts in the field of AI for Social Good, spanning research disciplines across the humanities and social sciences to the technology, science and engineering fields.
---
Integrated Earth 2023
12-13 September
The Shine Dome, Canberra
ARDC, TERN, NCI, AuScope, ACCESS-NRI and IMOS are partnering to host the Australian Academy of Science Elizabeth and Frederick White Research Conference. This 2-day symposium will bring together researchers, scientists, and STEM professionals working across the 5 Earth systems: geosphere, biosphere, cryosphere, hydrosphere, and atmosphere, to address complex environmental challenges.
---
2nd Bayesian Nonparametric Networking Workshop
4-8 December
Monash University
We are pleased to announce the 2nd Bayesian Nonparametric Networking workshop. The format will largely follow the first of these new BNP Networking workshops that was held in Nicosia (Cyprus) in April 2022, this time with 3 mini-courses delivered by Jim Griffin, Athanasios Kottas and Stephanie van der Pas, who will also deliver Keynote talks. The workshop will also feature invited talks, contributed talks and a poster session each featuring a range of different topics presented by a blend of both junior and established researchers.
---
Australian Statistical Conference (ASC) & Australian Conference on Teaching Statistics (OZCOTS) 2023
10-15 December
Wollongong, NSW
Hosted by the Statistical Society of Australia (SSA), this week-long conference covers both new developments and interesting applications of statistical methods. The theme for 2023 is 'Statisticians in society'. The last two days overlap with OZCOTS, providing a great opportunity to dip into the teaching of statistics. The week begins with three outstanding workshops on Sunday, 10 December:
Essential Skills for Statistical Communication
Statistical Consultancy – The Essentials for Getting Started and Ongoing Success
Deep Statistics for More Rigorous and Efficient Data Science
---
ADSN Jobs Board
(job opportunities listed by closing date – earliest to latest)
📌 The University of Melbourne
📌 UNSW Sydney
📌 Australian National University
📌 ARDC
---
Other Opportunities
📢 AMSI ACE Network online Honours & Masters Subjects | Semester Two
Enrolments are open for these nine (9) honours and masters Semester Two subjects:
> Advanced Numerical Analysis
> Computational Thinking with Python
> Fields & Modules
> Introduction to Nonlinear PDEs
> Introduction to Stochastic Analysis
> Mathematical Epidemiology
> Partial Differential Equations
> Statistical Consulting
> Statistical & Time-Series Analysis of Climate Variables
---
📢 SSA Travel Sponsorship – ATSIMA Conference 2023 – Entries close 15 June
The Statistical Society of Australia (SSA) is sponsoring one member to attend the inaugural conference for ATSIMA (Aboriginal & Torres Strait Islander Mathematics Alliance). The conference will be held from Monday 9th to Wednesday 11th October. The Society will cover your registration fee and travel and accommodation expenses of up to $1,500. Please send your application to eo@statsoc.org.au. Members with an Aboriginal & Torres Strait Islander background are especially encouraged to apply.
---
News
📲 60 for the 60th! Celebrating the 60th Anniversary of the Statistical Society of Australia – many ADSN members named on this list published in Significance Magazine
📲 'Why would we employ people?' Experts on five ways AI will change work – The Guardian
📲 UNSW Data Science Hub Director, Prof Scott Sisson, named a Fellow of the Institute for Mathematical Statistics
📲 We know that AI is sexist and racist – is it also ageist? An opinion piece in The Age from researchers at Monash University
---
Looking for a podcast about Data Science, Maths & Stats?
The ADSN is a proud partner in "The Random Sample" podcast
The Random Sample takes you inside the data and mathematical sciences and introduces you to some of the people involved, explores the work they're doing, and the impact it's having. To listen, just search for The Random Sample wherever you get your podcasts, or head to the podcast website. Please subscribe for free so new episodes just drop into your pod feed every two weeks. Also, if you have any ideas for podcast episodes or would like to get involved, please contact Tim Macuga.
Season 7 features all these amazing guests and hosts!
---
Contribute
Do you have an exciting news story, interesting opportunity, or upcoming event that you would like featured in one of our newsletters or ADSN Alerts? Please contact us to share your suggested content for consideration in the next ADSN communication piece.
Connect
Make sure you're following the ADSN on Twitter and LinkedIn to stay in the loop with the latest news, events and opportunities. Remember to use the hashtags #ADSN and #AustralianDataScience so we can reshare relevant updates with the network!