What's New in the Network – March 2023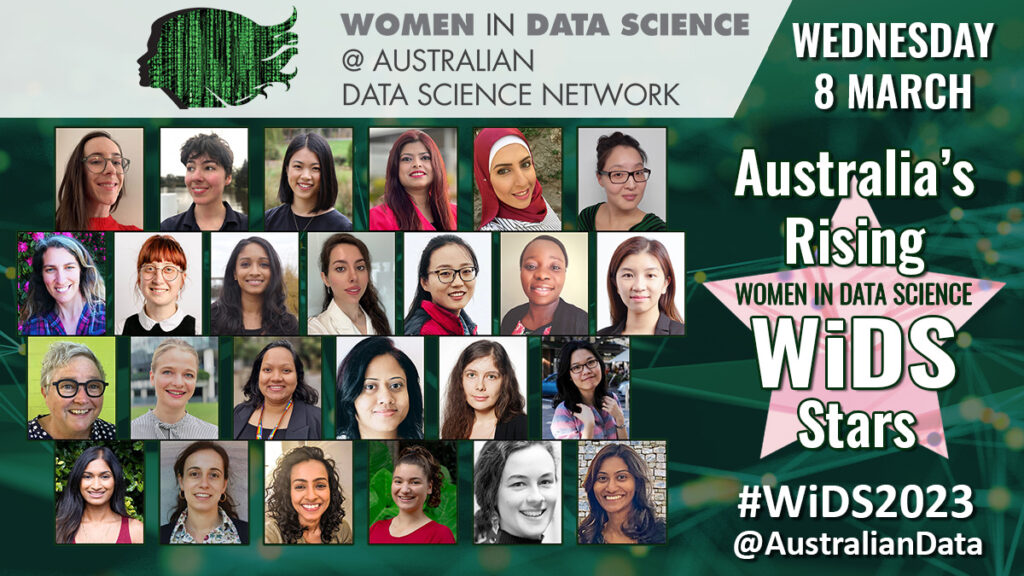 Join us on International Women's Day!
WHAT: Australia's Rising WiDS Stars (WiDS=Women in Data Science)
WHEN: Wednesday, 8 March
REGISTER: http://bit.ly/adsn-wids
Join us throughout the day as the ADSN introduces you to more than two-dozen researchers in Data Science from around Australia who are quickly becoming rising stars in the field. They'll share their journey, why they're in Data Science and what they're doing, and explore the issue of gender equity in STEM and what they experience in their careers and studies. Each person will speak for 10 minutes.
SCHEDULE: WEDNESDAY, 8 MARCH
12pm to 5pm AEDT – Melbourne, Sydney, Canberra
11:30 am to 4:30 pm ACDT – Adelaide
11 am to 4 pm AEST – Brisbane
9 am to 2 pm AWDT – Perth
Join us when you can and stay for as long as you'd like. Please share this with your organisations, centres, and universities!
---
Upcoming Events across the ADSN
These can all be found on ADSN events page: https://www.australiandatascience.net/events/
📆 AI for Good and the Bootstrapping Problem – Monash Prato Dialogue| Thursday, 9 March, 7 -8 pm AEDT – Online
Join the Monash Data Futures Institute for the next distinguished lecture in the Monash Prato Dialogue series, as they host Professor Shannon Vallor from University of Edinburgh. Professor Vallor will discuss the bootstrapping problem with calls to align AI with social good – a problem that also impacts related suggestions to develop more virtuous or responsible models of AI innovation. She will confront the problem of cultivating virtues and social goods of a new moral shape, and the radical cultural transformations this may entail. More information / Register
📆 SMC Down Under: AMSI-AustMS Workshop on Sequential Monte Carlo| 10-13 July, QUT Gardens Point Campus, Brisbane.
The SMC Down Under workshop will bring together the SMC community to discuss the theory and practice of sequential Monte Carlo. The workshop will consist of contributed talks, posters, and collaborative sessions to discuss current trends in SMC and its future directions. Workshop Website
📆 2nd Bayesian Nonparametric Networking Workshop| 4-8 December, Monash University Caulfield Campus. The deadline for abstracts for Contributed Talks or Posters is 15 April.
We are pleased to announce the 2nd Bayesian Nonparametric Networking workshop. The format will largely follow the first of these new BNP Networking workshops that was held in Nicosia (Cyprus) in April 2022, this time with 3 mini-courses delivered by Jim Griffin, Athanasios Kottas and Stephanie van der Pas, who will also deliver Keynote talks. The workshop will also feature invited talks, contributed talks and a poster session each featuring a range of different topics presented by a blend of both junior and established researchers. Workshop Website
---

Job opportunities (listed by closing date – earliest to latest)
📌 University of Wollongong
📌 University of Sydney
📌 Macquarie University
📌 The University of Adelaide
📌 South Australian Health & Medical Research Institute (SAHMRI)
📌 Australian Institute of Machine Learning
📌 UNSW
📌 Australian Centre for Excellence in Antarctic Research (ACEAS)
📌 QUT
📌 CSIRO
📌 Australian National University (ANU)
---
Other Opportunities
📢 2023 Eureka Prize for Excellence in Research Software – ENTRIES NOW OPEN!
The new Eureka Prize category, sponsored by the Australian Research Data Commons (ARDC), recognises and celebrates the vital role of developing and maintaining software in advancing research and scientific discovery. More info/apply
📢 ARDC Award for New Developers of Open-Source Software in Ecology
This award aims to support efforts to develop and share methodology, models and data in ecology and management of Australia's ecological communities. It will also focus on supporting researchers new to software development, who take on the role of the lead applicant for this award. More info/apply
📢 Data Science PhD Scholarship Opportunities at The University of Adelaide
The University of Adelaide is offering a number of Scholarships through the Joint PhD scheme of the Adelaide-Nottingham Alliance, a strategic initiative of the University of Adelaide and the University of Nottingham. Among those, there are these three Data Science related projects:
Modelling locust behaviour to improve hopper band detection and countermeasures
Optimising the directed evolution of yeast strains for the wine fermentation process
Modelling growth and pattern formation in yeast biofilms
For those, and all the other scholarship opportunities, head to Scholarships Webpage.
---
Resources
🖥️ Guide to Designing Digital Research Skills Training Materials
Whether you're developing a textual guide, presentation or video, this self-assessment tool by the ARDC can help you align your material's format and content with best practices.
🖥️ ARDC Nectar Research Cloud Learning Resources
Researchers: Build your practical cloud skills and knowledge with the ARDC Nectar Research Cloud's live webinars, self-paced online tutorials and content-rich knowledge base. These free resources cover a wide range of topics from cloud basics, data storage, Jupyter Notebooks, Virtual Desktop service to R Studio and more.
---

The Australian Data Science Network is a proud partner in The Random Sample podcast. The Random Sample takes you inside the data and mathematical sciences and introduces you to some of the people involved, explores the work they're doing, and the impact it's having. To listen, just search for The Random Sample wherever you get your podcasts, or head to the podcast website. Also, if you have any ideas for podcast episodes, please contact Tim Macuga.
---
News
📲 AMSI receives $998,000 in funding to expand PhD Scholarships for women in STEM
📲 Queensland female founders take their tech start up to The Hague
📲 The local student leading the charge for women in STEM
---
Have your say!
Review of ANZSCO Codes – "Data Scientist" and "Data Analyst" are new inclusions on the Australian and New Zealand Standard Classification of Occupations (ANZSCO) released late in 2022. Starting Consultation is now open for a comprehensive review of ANZSCO to reflect the contemporary Australian labour market. Does Data Science need a bigger presence? Now is the time to speak up!
---
ADSN is now on LinkedIn
Stay on top of everything that is happening with the ADSN and its member organisations. Just Follow the new ADSN Linked page. In addition, we've created an ADSN LinkedIn Group. The group will allow you to post jobs, events and news from your organisations and have discussions about things that are important in the field. The page will feature the latest content curated by the ADSN.
---
Contribute
Do you have an exciting news story, interesting opportunity or upcoming event that you would like featured in one of our newsletters or ADSN Alerts?
Please contact us to share your suggested content for consideration in the next ADSN communication piece.
---
Connect
Make sure you're following the ADSN on Twitter @AustralianData to stay in the loop with the latest news, events and opportunities.
Remember to use the hashtags #ADSN and #AustralianDataScience so we can reshare relevant updates with the network!