What's New in the Australian Data Science Network: November 2022
Welcome to the November 2022 update of the Australian Data Science Network (ADSN), a partnership of more than two-dozen data science research centres and organisations across the nation. The ADSN aims to connect expertise in data science across Australia, improve communication, encourage collaboration, expand opportunities, and promote our individual and collective capabilities.
ADSN Inaugural Conference | 21-22 November, QUT, Brisbane
Please join us in Brisbane for the inaugural conference of the Australian Data Science Network. The QUT Centre for Data Science will be the host organisation for the first conference to be held at QUT in Brisbane over two days on Monday and Tuesday, 21-22 November. Registrations 10 November.
MORE INFORMATION/REGISTRATION (registration ends 10 November)
Conference participants can provide an extended abstract showcasing their work (maximum three pages) that will be a part of the digital proceedings. There will also be a poster presentation session on both days.
---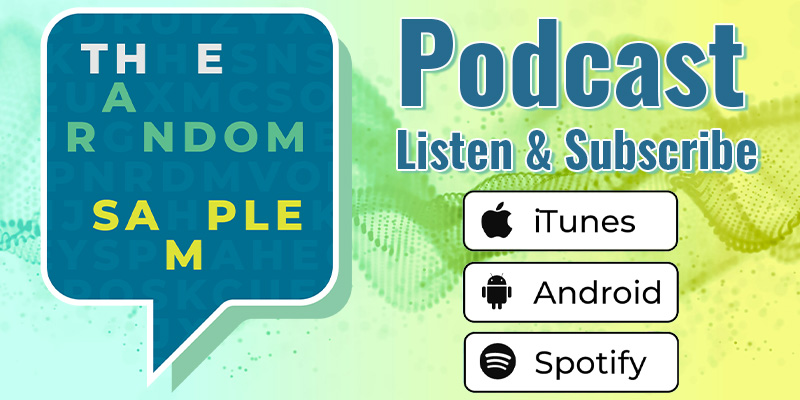 The Australian Data Science Network is a proud partner in The Random Sample podcast. The Random Sample takes you inside the data & mathematical sciences and introduces you to some of the people involved, explores the work they're doing, and the impact it's having. To listen, just search for The Random Sample wherever you get your podcasts, or head to the podcast website.
---

Upcoming Events across the ADSN
These can all be found on ADSN events page: https://www.australiandatascience.net/events/
📆 Vocabulary Symposium 2022 | 14-15 November, Canberra & Virtual
The symposium will bring together users, creators, and publishers of vocabularies across domains and sectors in Australia to share experiences and identify requirements for FAIR vocabularies underpinning cross-domain data. More information / Register
📆 2022 Statistical Science Lecture at the University of Wollongong | Thursday, 17 November, Wollongong & Virtual
Professor Michael I. Jordan (University of California, Berkeley) – named the "most influential computer scientist" worldwide in an article in Science will present the lecture titled, "On Learning-Aware Mechanism Design."  More information / Register
📆 AMSI BioInfoSummer 2022 | 21-24 November, The University of Melbourne
Join other students, ECRs and professionals to explore the latest research and developments in bioinformatics at this four-day conference. Travel grants are available to assist interstate students attend in Melbourne. More information / Register
Public Lecture: Energising the living fabric of your body: the molecular engines of metabolism, with Dr Drew Barry, The Walter and Eliza Hall Institute of Medical Research | Wednesday, 23 November, 6 pm AEDT More information / Register
📆 AustMS 2022 | 6-9 December, UNSW Sydney
Registration is open for the 66th Annual Meeting of the Australian Mathematical Society More information / Register
📆 AMSI Summer School 2023 | 9 Jan – 3 Feb, The University of Melbourne
Calling all honours, post-graduate students and ECRs: attend Summer School in Melbourne and get a different view of your mathematical world. Connect with peers, researchers and potential future employers while developing your mathematical skills. You can even take a subject for credit! Spend the first two weeks attending classes and activities on-campus at The University of Melbourne before heading home for the final two weeks to complete the program online (virtual participation for all four weeks also available). REGISTER
Summer School Events include:
📆 ARDC Digital Research Skills Summit | 9-10 February, Sydney
The annual skills summit provides a vibrant forum for eResearch skills communities to network, exchange information, share new initiatives and tackle complex, national scale skills challenges. We invite eResearch infrastructure providers, trainers, training program managers, researchers who train and other interested parties to join the summit, shaping the development of a national data and digital research skills strategy together. More information / Register
📆 Save the dates: ASC & OZCOTS 2023 | 10-15 December, 2023, Wollongong, NSW
The local organising committee warmly invites you to the 2023 Australian Statistical Conference (ASC) and Australian Conference on Teaching Statistics (OZCOTS), which will take place in Wollongong from the 10th to the 15th of December 2023. More information / Register
---
Job opportunities (listed by closing date – earliest to latest)
📌 The University of Queensland
📌 Monash University
📌 ARDC – Australian Research Data Commons
📌 Macquarie University
📌 Australian Institute of Machine Learning, The University of Adelaide
📌 Queensland Health
📌 The University of Melbourne
📌 CSIRO
📌 University of Sydney
📌 Queensland University of Technology (QUT)
---
Other Opportunities
📢 Call for EOIs: AMSI Online Honours and Masters Subjects – Interested in teaching an online honours or masters subject to students across Australia? We're seeking proposals for subjects to run in 2023. Approved ACE lecturers will receive a $1500 payment (subject to external students being enrolled post-census date). EOIs Close 7 November.
---
News
---
Contribute
Do you have an exciting news story, interesting opportunity or upcoming event that you would like featured in one of our newsletters or ADSN Alerts?
Please contact us to share your suggested content for consideration in the next ADSN communication piece.
---
Connect
Make sure you're following the ADSN on Twitter @AustralianData to stay in the loop with the latest news, events and opportunities.
Remember to use the hashtags #ADSN and #AustralianDataScience so we can reshare relevant updates with the network!
If you no longer wish to receive these newsletters, click here to unsubscribe.