What's New in the Network: October 2022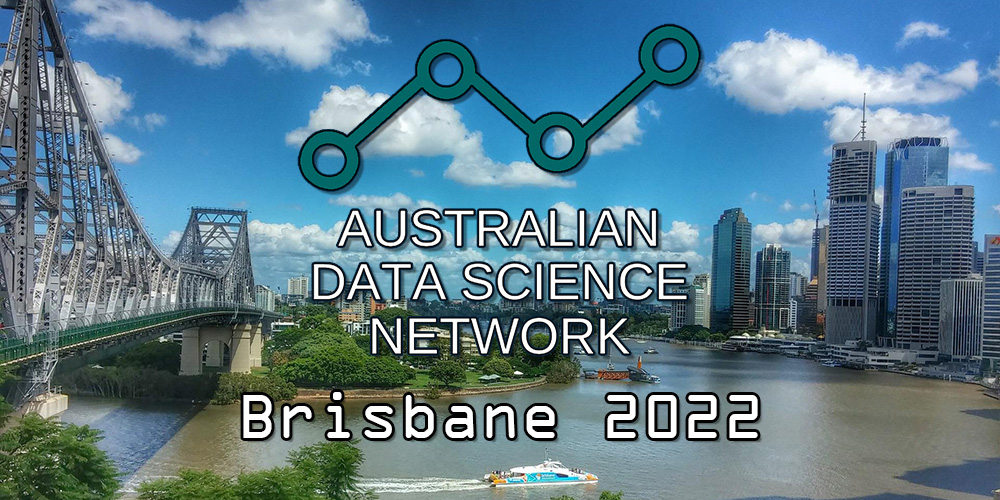 Save the Dates for the inaugural Australian Data Science Network Conference
The Australian Data Science Network is pleased to announce its inaugural conference. The QUT Centre for Data Science will be the host organisation for the first conference to be held at QUT in Brisbane over two days on Monday and Tuesday, 21-22 November. Registration is opening soon. Stay tuned for more details! More information

Upcoming Events across the ADSN
These can all be found on ADSN events page: https://www.australiandatascience.net/events/
📆 Causal inference in Data Science | Friday, 7 October, 10am – 11:30am, In-person & Virtual
The Melbourne Centre for Data Science is kicking off a new series, "Data Science across disciplines". At this first event in the series, this hybrid event will explore causal inference in Data Science with two experts. Register for in-person attendance / Register for virtual attendance
📆 DIY R Package Workshop | Weds, 12 October, 10am – 4 pm, Virtual
This interactive workshop from the Statistical Society of Australia will equip you with the basic skills to create an R package of your own. We will walk through the package building process and apply the same workflow to your own function. We will learn about testing and continuous integration and implement them using Github Actions. More information / Register
📆 Workshop on Statistical Deep Learning | Mon, 24 October & Tues, 25 October, Sydney
This workshop aims to bring together researchers in the region that are interested in topics at the interface of deep learning and statistics. It will be based around a set of talks, and there will be time for discussion and networking between the talks. More information / Register
📆 ATSE ACTIVATE 2022 | Tues, 25 October – Thurs, 27 October, Sydney
ACTIVATE 2022 will bring together 500 high-level representatives from across government, business and academia and feature keynote conversations between global and national future shapers, prominent technology entrepreneurs, industry leaders and researchers who will share their vision for a technology powered, human driven future for all Australians. More information / Register
📆 ARDC Leadership Series: Industry and Research Sector Forum | 26 October, 1pm – 3:30 pm AEST, Melbourne & Virtual
The ARDC leadership series provides leaders, influencers and decision makers in academia, government, and industry with an opportunity to work through big data challenges affecting researchers in Australia. At the third forum in the series, we will discuss how both research and industry can benefit from increased collaboration around data to deliver greater societal and economic value. More information / Register
📆 ARDC Digital Research Skills Summit | 2-3 November, Sydney
The annual skills summit provides a vibrant forum for eResearch skills communities to network, exchange information, share new initiatives and tackle complex, national scale skills challenges. We invite eResearch infrastructure providers, trainers, training program managers, researchers who train and other interested parties to join the summit, shaping the development of a national data and digital research skills strategy together. More information / Register
📆 Vocabulary Symposium 2022 | 14-15 November, Canberra & Virtual
The symposium will bring together users, creators, and publishers of vocabularies across domains and sectors in Australia to share experiences and identify requirements for FAIR vocabularies underpinning cross-domain data. More information / Register
📆 AMSI BioInfoSummer 2022 | 21-24 November, The University of Melbourne
Join other students, ECRs and professionals to explore the latest research and developments in bioinformatics at this four-day conference. Travel grants are available to assist interstate students attend in Melbourne. More information / Register
📆 AustMS 2022 | 6-9 December, UNSW Sydney
Registration is open for the 66th Annual Meeting of the Australian Mathematical Society More information / Register
📆 AMSI Summer School 2023 | 9 Jan – 3 Feb, The University of Melbourne
Celebrating its 21st year, AMSI Summer School is Australia's biggest annual national event for honours and postgraduate students in the mathematical sciences. Connect with peers, researchers and potential future employers while developing your mathematical skills. You can even take a subject for credit! View subjects/more information
📆 Save the dates: ASC & OZCOTS 2023 | 10-15 December, 2023, Wollongong, NSW
The local organising committee warmly invites you to the 2023 Australian Statistical Conference (ASC) and Australian Conference on Teaching Statistics (OZCOTS), which will take place in Wollongong from the 10th to the 15th of December 2023. More information / Register
---
Job opportunities
(listed by closing date – earliest to latest)
📌 Monash Data Futures Institute
📌 UNSW
📌 University of Newcastle
📌 UNESCO Institute for Statistics
📌 University of Sydney
📌 South Australian Health & Medical Research Institute
📌 Burnet Institute
📌 RMIT University
📌 University of Technology Sydney
📌 The University of Adelaide
📌 Curtin University
---
Other Opportunities
📢 Monash Data Futures Institute PhD Scholarships in AI and Data Science – Applications are now open for the next round of Monash Data Futures Institute's interdisciplinary PhD Scholarships, addressing some of the most pressing global challenges through the advancement of AI and data science.
📢 Call for EOIs: AMSI Online Honours and Masters Subjects – AMSI's ACE Network allows lecturers to teach mathematical sciences students from around Australia. ACE subjects are often used to supplement the honours and masters curriculum. Interested in teaching honours or masters subjects over the AMSI ACE Network? We are seeking proposals for 2023 subjects.
📢 PhD Scholarship to work with industry partner Hastings Deering – the QUT Centre for Data Science is offering a three-year scholarship to work on the project, "Benefits realisation for Data Science"
---
News
---
Contribute
Do you have an exciting news story, interesting opportunity or upcoming event that you would like featured in one of our newsletters or ADSN Alerts?
Please contact us to share your suggested content for consideration in the next ADSN communication piece.
Connect
Make sure you're following the ADSN on Twitter @AustralianData to stay in the loop with the latest news, events and opportunities.
Remember to use the hashtags #ADSN and #AustralianDataScience so we can reshare relevant updates with the network!
If you no longer wish to receive these newsletters, click here to unsubscribe.