What's New in the Australian Data Science Network
Welcome to the May 2022 update of the Australian Data Science Network (ADSN), a partnership of more than two-dozen data science research centres and organisations across the nation. The ADSN aims to connect expertise in data science across Australia, improve communication, encourage collaboration, expand opportunities, and promote our individual and collective capabilities. To make sure you don't miss an update, subscribe to the ADSN Newsletter to get the latest news, events and opportunities delivered straight to your inbox.

Our next Data Ethics Workshop is coming up!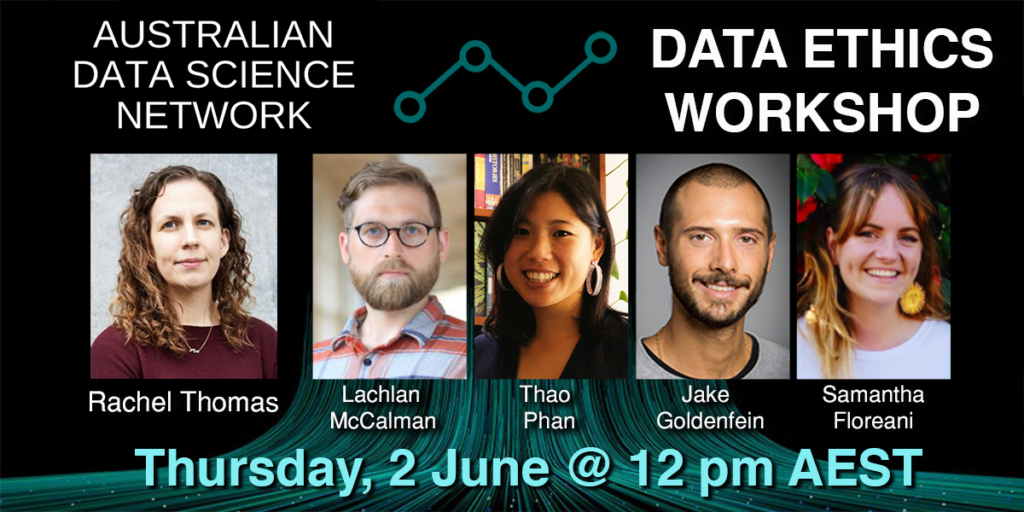 📆 ADSN Data Ethics Workshop #3 |Thursday, 2 June: 12 pm – 1 pm (AEST)
The Australian Data Science Network is proud to present another workshop in our series on Data Ethics. The aim of this series is to share open questions, spark discussion, and facilitate collaborations. The workshops will be led by Professor Rachel Thomas, co-founder of Fast.ai and Professor of Practice at the QUT Centre for Data Science. Our guest speakers and topics are:
Lachlan McCalman, Gradient Institute, "Ethical AI Governance Gaps in Finance"
Thao Phan, Monash University, "Economies of Virtue: The Circulation of 'Ethics' in Big Tech"
Jake Goldenfein, University of Melbourne, "Law's consumers vs platforms users: competing imaginations of the human in platform ecosystems"
Samantha Floreani, Digital Rights Watch, "Human Rights in the Digital Age"
Register your interest and/or get the zoom link
Upcoming Events across the ADSN
📆 Introductory Webinar: DReSA for eResearch Skills Trainers & Providers |Thursday, 26 May: 3 pm – 4 pm (AEST)
Digital Research Skills Australasia (DReSA) is a discovery portal to find skills training events, materials, providers, and trainers. The DReSA team will run a free webinar to demonstrate the best features of the discovery portal and provide step-by-step instructions on how to get started with DReSA. We invite trainers, course developers, training program managers, researchers who train, decision makers, infrastructure managers or anyone involved in digital infrastructure training programs to join the webinar. More information / Register
📆 AMSI-AustMS Workshop on Bridging Maths and Computer Science | 31 May – 3 June, The University of Sydney
This 4-day workshop will bring together Australasian researchers in mathematics and theoretical computer science, fostering exchanges and collaborations. The workshop will focus on two themes:
– Computational Complexity and Cryptography
– Graph Theory and Combinatorics
Each day will involve plenary talks by both a member of the mathematics and computer science community, and time devoted to open problems and interesting research directions, as seen by both communities. More information / Register
📆 People Research Data Commons Program | Weds, 1 June: 2pm – 4pm or Thurs, 2 June: 10am – 12pm (AEST)
The ARDC is excited to launch the People Research Data Commons program to support health and biomedical researchers in solving some of Australia's biggest health and medical challenges. The new program is open for consultations with the health research community. We invite researchers, research infrastructure providers, health professionals and other interested parties from industry, government, and academia to join us for one of the roundtable discussions.
📆 AI for Good Showcase | Thurs, 9 June: 9 am – 6 pm
The Monash Data Futures Institute is hosting a showcase featuring Monash University's latest interdisciplinary research in AI and Data Science for social good.
📆 Women in Data Science Celebration | Weds, 15 June: 11 am – 1 pm
The QUT Centre for Data Science is hosting a Women in Data Science celebration. The event will be a hybrid in-person/online event. The event will feature a keynote talk from Professor Rachel Thomas followed by a panel discussion and networking.
📆 AMSI Winter School 2022 | 20 June – 1 July
This year's Winter School on New Directions in Representation Theory will be hosted by The University of Queensland from 20 June – 1 July. Join the mailing list to keep up with announcements! More information / Register
📆 Public Lecture: MSI Winter School 2022 | Thurs, 30 June: 6 pm – 7:30 pm
Hear from Professor Geordie Williamson (The University of Sydney) as he explores how machine learning can help with the intuitive aspects of mathematical research. Attend in-person at The University of Queensland or watch it live online. More information / Register
Job opportunities
📌 QUT Centre for Data Science
Research Fellow for Hastings Deering Project | Fixed term, 10 months – closes 27 May
📌 RMIT University
Lecturer in Statistics & Analytics| Full-time, continuing – closes 5 June
Lecturer in Mathematics |Full-time, continuing – closes 5 June
📌 Australian National University
Senior Research Statistician at the Fenner School of Environment & Society| Full-time, continuing – closes 5 June
📌 The University of Queensland – Centre for Health Services Research
Senior Biostatistician | Fixed term, 2 years – closes 8 June
📌 Australian Institute of Machine Learning
Research Fellow in Machine Learning | Fixed term, 1.5 years – closes 12 June
Other Opportunities
🔉 PhD Scholarships (x3) QUT Centre for Data Science – to work with industry partner Hastings Deering
🔉 Venables Award for New Developers of Open-Source Software for Data Analytics – sponsored by the ARDC
🔉 The Visible Research Software Interest Group: the ARDC is leading a national agenda for the Australian research community to see, shape and sustain research software as a first-class output of research. The Visible Research Software Interest Group is driving the culture change needed for this to happen. We invite you to share your ideas and initiatives on making research software citable, published and FAIR. Join the group
🔉 Data Repositories Communities of Practice (DR CoP): The Data Repositories CoP group shares practical knowledge and best approach on managing a growing volume of research data, software and other research outputs. We invite repository managers, data librarians, infrastructure developers and other interested parties to become a member. Join the group
News
Girls shun physics A-level as they dislike 'hard maths', says social mobility head – The Guardian
Wrong, Elon Musk: the big problem with free speech on platforms isn't censorship. It's the algorithms – The Conversation
Vive la Difference: Diversity, Equity and Inclusion in Research Software Engineering – ARDC
How Artificial Intelligence Learned to Brew Beer – story featuring the Australian Institute of Machine Learning
Get to know other ADSN partners
If you'd like to find out more about other partners in our network, check out our video recordings from our ADSN Centre Spotlight series. The presentations are available on YouTube. Watch the recordings
Contribute
Do you have an exciting news story, interesting opportunity or upcoming event that you would like featured in one of our newsletters or ADSN Alerts?
Please contact us to share your suggested content for consideration in the next ADSN communication piece.
Connect
Make sure you're following the ADSN on Twitter @AustralianData to stay in the loop with the latest news, events and opportunities.
Remember to use the hashtags #ADSN and #AustralianDataScience so we can reshare relevant updates with the network!